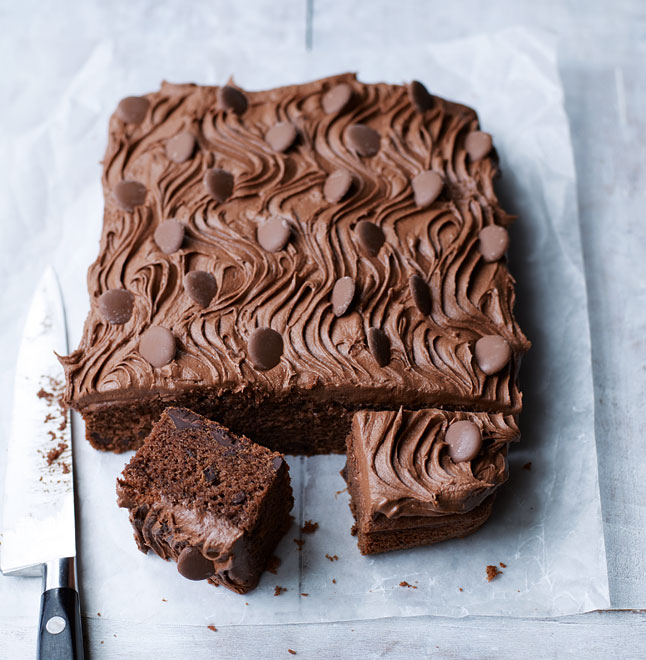 Quick Double Chocolate Sheet Cake
Recipe Type: Dessert
Author: The Foolproof Freezer Cookbook by Ghillie James
Serves: 12
Ingredients
• 3/4 cup plus 21/2 tablespoons butter, softened
• 1 cup superfine sugar
• 4 large eggs
• 1/4 cup unsweetened cocoa, dissolved in 3 to 4 tablespoons boiling water to make a smooth paste
• 1 2/3 cups less 1 tablespoon self-rising flour
• 1/2 teaspoon baking powder
• 3 1/2 ounces semisweet chocolate chips chocolate buttons, smarties, or fresh raspberries, to decorate
For the frosting
• 1 tablespoon unsweetened cocoa, dissolved in 2 tablespoons boiling water to make a paste
• 5 1/2 tablespoons butter, softened
• 1 2/3 cups confectioners' sugar
Instructions
Preheat the oven to 350˚F.
Grease and line a 11 x 7 x 2-inch baking pan.
In a large bowl, place the softened butter, sugar, eggs, and dissolved cocoa. Sift over the flour and baking powder. Using a hand mixer, beat the mixture until it is pale and creamy, about 2 minutes.
Using a metal spoon, fold in the chocolate chips.
Turn the mixture into the greased pan and spread it out evenly.
Bake for 30 to 35 minutes, or until risen and springy to the touch.
Cool slightly before turning out onto a wire rack.
Once the cake is cool, in a bowl, place all the frosting ingredients and, using the hand mixer, beat together well.
Spread over the cake.
Run a fork across the surface of the frosting to create a wavy pattern of lines. Place the frosted cake on a tray or plate and open freeze.
Once frozen, place in a box or freezer bag and return to the freezer.
Let stand overnight on a wire rack, then sprinkle with your topping of choice.
3.2.1226
From