Clothing is generally the first thing that mums-to-be buy when they're pregnant. Who can resist those cute miniature-sized items of clothing! Here's a summary of the essential items of clothing for baby.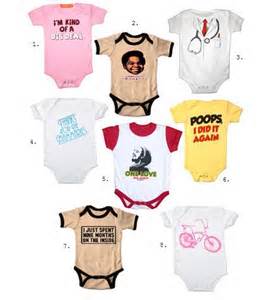 Even if you don't know your baby's sexyet, you can still start to fill his or her wardrobe with body suits, pyjamas, trousers, romper suits and more. Here's a summary of the essential items of clothing your baby will need.
Body suits
This most basic item of baby clothing should be 100% cotton and have a front opening so that you don't have to put it on over baby's head (newborns don't like the feeling).
How many? About 10 for the first 3 months, and at least 7 for 6 months onwards.
Pyjamas:
Choose thick or lightweight pyjamas for the season, that are easy to put on. Go for ones that open fully at the front or ones with press studs down the back and legs.
How many? At least 7 pairs.
Trousers:
Comfort is important: invest in soft materials, and if you're buying jeans, buy large, stretchy ones with an elastic waist.
How many? 4 or 5 pairs.
Tops:
Invest in a combination of short and long-sleeved T-shirts that can be fully opened at the front or back if possible. For winter, buy cardigans rather than sweaterswhich have to be put on over the head. Choose soft, slightly stretchy materials, and fabrics that are easy to wash (machine washable).
How many? About 10 tops and 4 or 5 cardigans.
Outdoor clothes
In winter, if you go out a lot with your baby, a snowsuit will keep him or her snug. In between seasons, a comfortable jacket will suffice, and in summer, a cotton cardigan should be enough.
How many? Ideally 2 coats or jackets for each season.
Tip: As a rule you should add an extra layer on top of what you're wearing, because babies don't move a lot and can get cold quickly. However, remember to remove or loosen the clothing when you go inside so as not to cause overheating.

Shoes
There's no point buying shoes for babies who can't walk yet. Instead, go for soft shoes that won't damage their tiny developing feet, with large openings so you can easily slide the feet in and out.
How many? 2 pairs.
Bibs
For the first few months, use scratch-resistant bibs lined with plastic that are easy to clean. Later on, when your baby starts pulling at the bib to take it off, use bibs that go over the head.
How many? At least ten!
Source: