When the weather gets muggy, it is important to wear your makeup carefully and you can also lift your mood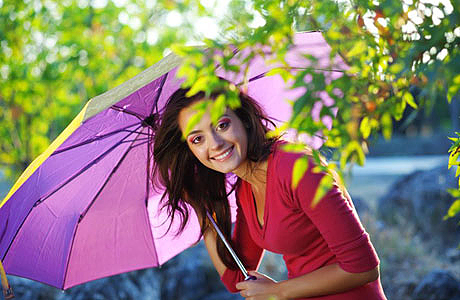 by colouring your lips bright.
Follow makeup tips suggested by Aakriti Kochar, beauty and make-up expert at Oriflame India:
– After cleansing, toning and moisturising your face, apply skin primer. Those with normal or dry skin, should use cream-based primer. Matte finish is best for oily skin. The product prepares a good under-base for make-up.
– Then apply a thin layer of foundation. Use concealer to hide acne or spots. Take powder to seal the foundation.
– For eyes, apply a thin layer of concealer then make-up powder. Use nude eye shadow and blend it towards the crease.
– To fill in the brows, use a dark brown eye shadow. Apply it with an angular brush.
– Apply good amount of mascara on top and bottom of eye lashes.
– To give colour to cheeks, use a soft bronzer.
– Go for neon pink lip pencil to outline lips, then fill your lips with the same colour.
From