Viewers will have a rare opportunity of watching two top class hosts — Dr Shaista and Nadia Khan — in Geo TV's programme 'Utho Jago Pakistan' today (Thursday).
Both Shaista and Nadia are undoubtedly the queens of morning shows, having a large number of fans across the world. Nadia will be Shaista's guest in the show and interesting facts about the former's personal and professional life will be taken up during the show. It is expected that viewers will have a marvelous time, as both the ladies are masters of the same field and there is always a tough professional competition between them. This is likely to be a great blessing for viewers who enjoy highly entertaining shows owing to their tough competition.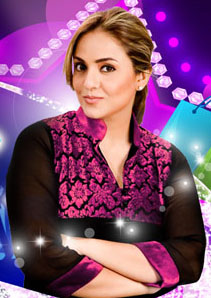 Nadia's new live evening programme 'Nadia Khan Show' will also be aired every Friday and Saturday evening from February 1 on Geo TV.
Nadia Khan is a prominent showbiz personality and counted among founders of morning show in Pakistan. She has always impressed viewers particularly women through her spicy discussions.
Her programme is not merely limited to interesting and humorous discussion, but it also incorporates discussion on important issues. She did morning shows on health, education, art, religion and even about every section of society. People still remember her 'Happy to you' which she used to say one every happy occasion.
Dr Shaista Wahidi, a great combination of talent and beauty, is another prominent player of this field.
She has also great number of fans owing to her socially active personality and decent way of talking. She did blockbuster shows on different subjects on Geo TV. The different weeks she celebrated on different occasions are still fresh in the pleasant memories of her viewers.
Both Nadia and Shaista's way of talking and their personalities have great impression on people particularly women. They hold the status of a 'trend setter'. Their dresses are also very popular among women.
Source: