Papaya is a great natural skin exfoliant. Use this DIY mask to exfoliate your skin at home.
Ingredients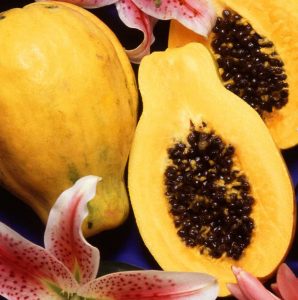 1/4 cup green (or) ripe papaya*
1/4 cup pumpkin
1/2 tablespoon plain yogurt
1/2 tablespoon honey
1 egg white (or) yolk*
1 small carrot (cut into round slices) optional
Boil the carrot slices (if using) until soft. Peel and dice the papaya and remove the seeds. Put the papaya, pumpkin, carrots and remaining ingredients into a food processor or blender and blend until smooth. I blend the ingredients by hand, which makes it less likely to be runny.
If you have sensitive skin, test first on your wrist.
Apply the mask to clean skin with fingertips, avoiding area around the eyes. Leave on for 10-15 minutes. This mask should be thick enough to stay put on your face, but for a relaxing treatment, recline on a comfy chair or bed, put your feet up and listen to nice, calming music while the mask does its job. The mask will tingle as the enzymes begin to work. Rinse well with lukewarm water. Pat dry.
About the ingredients
*Papaya. Papaya has an enzyme called papain, which helps to dissolve dead skin cells. Unripe papaya has more papain, therefore those with sensitive skin would probably prefer using ripe papaya. Papaya also has vitamins C and E, and beta-carotene. It is anti-bacterial, making it good for acne-prone skin as it cleanses blemishes and it's also good for wrinkles.
Pumpkin. Pumpkin heals, soothes, softens and moisturizes dry skin. It's also beneficial for damaged and sensitive skin and is rich in vitamins A and C and the mineral zinc.
Yogurt. Yogurt contains lactic acid (alpha hydroxy acid) to gently exfoliate and remove dead skin cells. It also helps suppresses sebum. It's also good to use as an additional ingredient if you have sensitive skin.
Honey. Honey is a natural humectant and retains moisture in the skin, making it a great ingredient for those with dry skin. At the same time it is good for blemish-prone skin because of its antibacterial properties.
Egg. **Egg whites exfoliate and tone and firm skin. Include an egg white if you have oily skin. Egg yolk contain vitamin A and moisturize and soothe dry skin.
Carrot. Carrots contain beta-carotene and are often found in facial masks for normal to oily skin because they help remove excess oil and are good for blemished skin, as well as aging skin.
Source: About