All of us have been through this time and time again. Last year when I started this blog in Fall 2012 it was mostly because I was enraged by the sheer amount of design plagiarism in the fashion and apparel industry. I reached out to the high and mighty in the fashion and journalism front but sadly every one stayed hush hush so they mayn't be ruffling someone's feathers the wrong way. I started with a piece about Curious case of copies in fashion and sadly I have never run out of content.
This year it has been no different the lawn market seems quite fertile and lush everywhere. I have been privileged enough to attend 4 launch ceremonies but I refrained from writing much about them because I don't really know  a lot about the design sensibilities of  the consumer or about the fabric to begin with. Just few days back a friend of mine whatsapped me a photo, it left me awestruck. You guessed it right. It was a design rip off yet again! and that also by renowned designer duo Sana Safinaz lawn collection 2013. In 2012 the brand copied a design by Emilo Pucci that too in same color combination &  there was a controversy over Sana Safinaz TVC and billboards showing Louis Vuitton bags & coolies.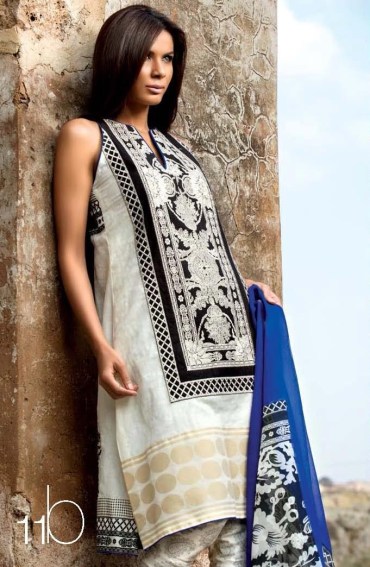 Some of the people from fashion and blogging  community have been praising the designer duo for their 'creativity' but what is the point of it all if you yourself don't wear them or don't know much about them. It is not that I hold a grudge against the brand Sana Safinaz in any way but it can't really be a  coincidence that 2nd year in a row they ripped off another design from a popular brand without even altering it slightly. Kudos to their Chutzpah and also for letting down the whole design fraternity by their lack of originality.
The design in question is a Zara's silk wide leg pants from last year's collection, and in Sana Safinaz's version the exact same design motif is used on the on the the front of shirt piece. In the Sana Safinaz catalog the designs are numbered as 11a and 11b. Although the silk pants retailed for around $90 this printed fabric retails for around $57.
I am aware of the fact that the ladies who might buy the lawn fabric won't be affected by my act of naming and shaming plagiarism. But I hope that such well renowned designer brands don't slag off like this in future or probably hire a better design team. I loved the large orange dress with the train that Neha wore in the brand's stunning TVC but I guess in instances such as these the marketing gimmicks just fail to shine bright. It is better to do something bad on your own then to copy someone else badly.