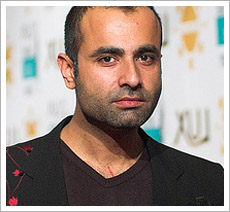 Deepak Perwani started his career at a mere age of 20 in 1994 with a men's wear line that changed what men wear in Pakistan. Perwani has not looked back since then been called the bad boy of Pakistani fashion many a times. He went ahead to launch his women's wear line in 1996 with the opening of his flagship store on Zamazama Karachi.
He's not a conformist to the east persay and draws inspiration from everything that is the past present and the future. His forward thinking and modem approach to design has taken the Pakistani man and woman into the 21st century. His philosophy and astute sense of design has made him a fashion icon and his fashion house a source of inspiration for designers in Pakistan and abroad. Minimal embellishment and a total fusion between the east and the west makes him one of the foremost designers In the country. At 23 he was chosen to be the brand ambassador for the World Gold Council and later for Dupont Lycra. He was responsible for the launch show of ABN Amro Bank in Pakistan and after that went ahead to collaborate with Mercedes Benz Benson Hedges and Hugo Boss perfume to name a few.
At 28 he was chosen on to the board of governors of the Pakistan school of fashion design P.S.F.D affiliated with LA CHAMBRE SYNICALE DE LA COUTURE PARISENNE. He also won the prestigious Lux Style Award for men's wear and the Indus Style Guru Award the same year. Lately he has been chosen as Pakistan's Cultural Ambassador to China and Malaysia and traveled with President Musharraf to the World Economic Forum Conference to China. He represented Pakistan at the Royal Albert Hall in London and went ahead to be the first Pakistani to do a fashion week KLFAW Kuala Lumpur Fashion Week. At 30 Mr. Perwani won his second Lux Style Award opened his flagship store in Lahore and the label Deepak Perwani went international to be stocked in London, New York, Dallas, Dubai and Singapore.
He did the Castle India Mens Fashion Week CIMFF and went ahead to represent Pakistan at the first ever Islamic Fashion Week in Malaysia initiated by her highness the Queen of Malaysia Lady Prime Minister and Prime Minister Suhartos daughter of Indonesia. In the 2007 he was chosen by the board of governors of Pakistan Fashion Council and visited Delhi to sign a memorandum of understanding between the Fashion Pakistan Council and the Fashion Design Council of India thus making history as it is the first understanding of its kind between India and Pakistan's bilateral trade. He is also a member of the South Asian Free Media Association SAFMA. At 33 this year he won his 3rd Lux Style Award for achievement in men's wear design the best dressed celebrity on the red carpet and then went ahead to represent Pakistan for the 60th year of independence parade organized by the High Commission of Pakistan at Trafalgar Square in London.
Perwani defines what PRT is today in Pakistan and plans to make his label truly international by opening his own show rooms in London and New York in the future.
Labels:
Deepak Parwani Lawn
Awards Won By Deepak Parwani:
6 Lux Style Awards
2 Mtv Style Guru Awards.
Best international designer at Miami fashion week
The Indus Music Fashion Icon award.
Achievements:
Represented Pakistan at the United Nations Assembly for the empowerment of Pakistani women.
Listed in the Guinness Book of World Records for the largest Kurta in the world.
Participated in the London Pakistan Fashion Week.
Has spoken at Cambridge University in London on fashion and politics in Pakistan last year.
Presented Pakistan as an ambassador with Mr. Hussain Haqqani and visited ambassadors residence in Washington last year.
Deepak Parwani Brand is available at: