Recipe Type:
Soup
Prep time:
20
mins
Cook time:
25 mins
Total time:
45 mins
Serves:
8
Capture the sweetness of fresh corn in this four-ingredient soup. Freeze portions for up to six months, and then heat them straight from the freezer.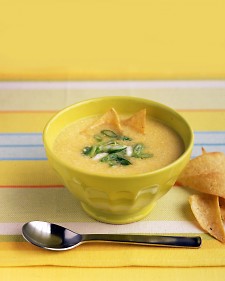 Ingredients
16 ears yellow corn
4 tablespoons butter, (cut into small pieces)
1 tablespoon coarse salt
Tortilla chips, (optional)
Lime wedges, (optional)
Scallions, sliced, (optional)
Instructions
Remove husks and silks from corn.
Holding ears in a large bowl, slice off kernels (to yield about 10 cups). When slicing corn from cobs, work in a deep bowl to catch the kernels and any juices.
In two batches, puree kernels and accumulated juices with a total of 2 cups water until chunky.
In a large saucepan over medium-high heat, cook pureed corn, butter, 4 cups water, and salt until butter is melted and soup is heated through, 5 minutes.
Serve hot, garnished with tortilla chips, lime wedges, and sliced scallions, as desired.