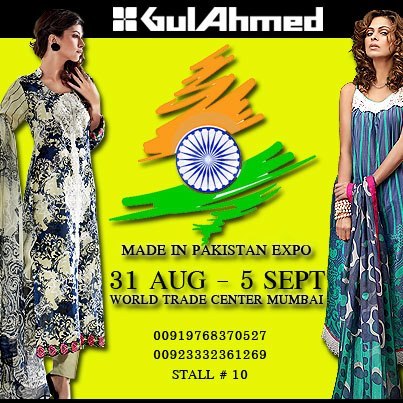 Pakistan 's textile products especially Lawn and glittering marble products which are second to none have enough to fascinate visitors at Pakistan's solo exhibition being organized by the federation of chambers of commerce and industry in Mumbai by end of this month. The exhibition is being held in collaboration with FPCCI's counterpart Federation of Indian Chambers of Commerce and Industry.
Appropriately titled the "Made in Pakistan Exhibition 2012," the event will showcase Pakistan 's key strengths in textile, marble, herbs and medicines, plastics and melamine. The event, which will be held from August 31 to September 5, 2012 at WTC Mumbai, is unprecedented in the history of Pakistan-India trade ties; and marks Pakistan's first such foray into Mumbai, the heart of the Indian market.
It is believed that FPCCI's participation this year with a high ranking delegation of 200 exhibitors, led by Haji Fazal Kadir Khan Sherani, President-FPCCI – which include Pakistan's leading textile giants, such as Bareeze, Gul Ahmed, Al-Karam, Ittihad, Five Star, and Mausummery – will set an excellent precedent for the times to come. It may be kept in mind that these are some of the top brands from Pakistan , and were very popular at the recently concluded exhibition of Pakistani products in April in New Delhi.
From