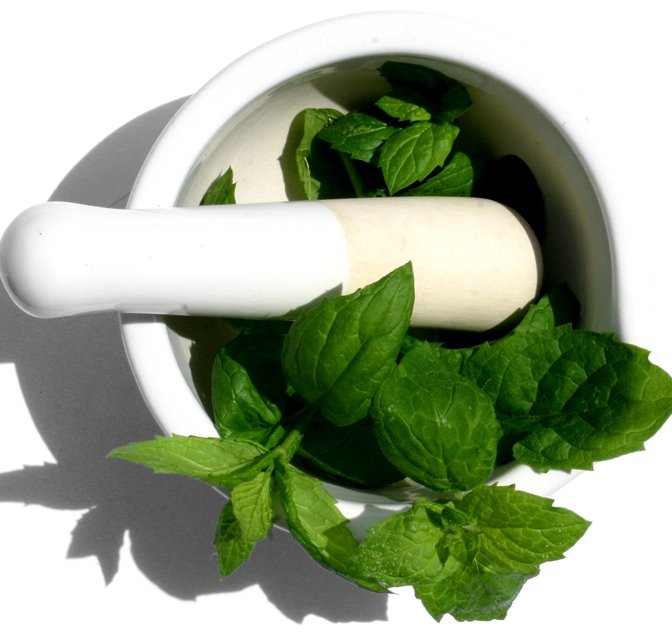 Mint – most people in the U.S. are familiar with mint as a flavor of ice cream, or as a flavor of a wide variety of breath fresheners. However, mint is an herb with a very old history. There is more than one type of mint, and each one has numerous nutritional benefits, as well as some medical benefits.
When using mint, the roots are discarded, and the plant leaves and stems are used to create seasonings and herbal remedies. There are a few basic medical ailments that mint is used to treat, including digestive issues, gas, nausea, and for little babies – colic. However, there are other applications for mint, including as a fever reducer. This is not something that has substantial scientific backing, it is more a way to relieve the symptoms of fever by providing a cooling sensation to come over the body.
Mint can be used in a variety methods, and can be prepared in several ways to be used as a natural remedy for ailments. It can be used as an inhalant, made into a tincture, infusion, or compress. In fact, mint tea is an extremely popular way to introduce mint into the body. It can also simply be ingested (eaten).
Besides tea, mint is generally found as an essential oil. Essential oils are great, because they are a well preserved, concentrated form of the herb. Sometimes dozens or even hundreds of mint leaves can go into the production of a mint essential oil… and this gives a lot of remedy for a few drops. Peppermint is one mint based essential oil that contains primarily menthol. Peppermint can have a calming effect, and can be used to treat mild anxiety or panic disorders. It can also help relieve sinus and tension headaches. Also, peppermint has some antibacterial properties and therefore can be used on minor cuts, scrapes, and topical infections.
To clear nasal congestion, it is best to put several drops of peppermint into a cup of very hot water, and inhale the steam fumes as it comes up off the cup. However use this method of treatment sparingly, as peppermint can irritate the nasal membranes. This should not be used by children and nursing mothers should avoid peppermint altogether.
If you total all the varieties of mint currently known, there are 30. This means there are many different types of mint that can be made into several different natural remedies for medical issues. The two most popular types of mint in the U.S. are spearmint and peppermint. In China, field mint is the predominate form of mint.
But mint does more than just help the ill… it can be a fantastic seasoning. Mint ice cream is a favorite of many, and mint chocolate is popular in all parts of the western world. Also, it can be used as a palate cleanser for nearly all culinary dishes.
Source: