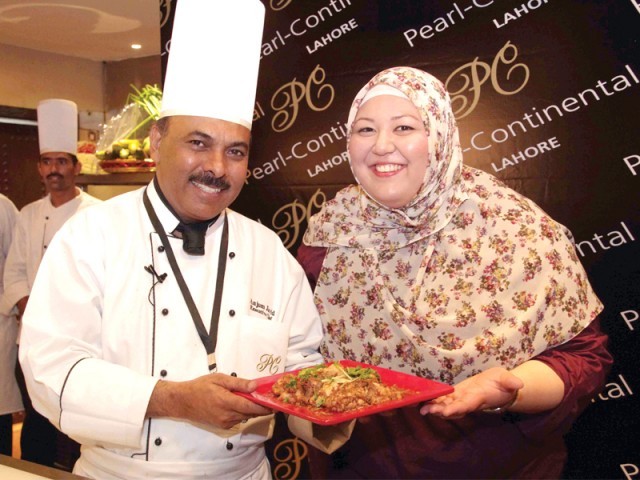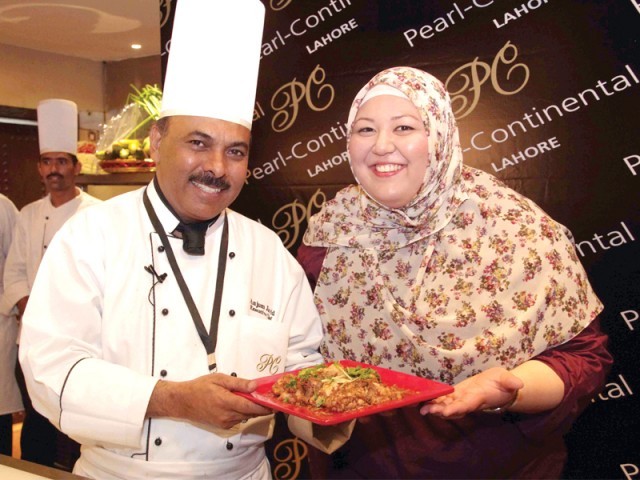 Amina Elshafei, one of the most popular contestants on MasterChef Australia's season four, finally set foot in the cultural city of Lahore on Thursday evening and allowed a lucky few to get a taste of her hands. Chief chef of Pearl Continental Hotel, Anjum Javed and Amina performed a live cooking session at the hotel amidst a cosy ambiance.
The two renowned chefs worked together on each other's personal recipes. While chef Javed followed Amina's instructions to make grilled prawns, Amina flexed her hands with Javed's traditional Lahori chicken karahi recipe. The redolence of the food along with great ambiance was the highlight of the day where the traditional decoration portraying the rich culture of the Mughal era made it a win-win situation and a memorable experience for the visitors.
Talking about her trip to Pakistan, Amina said, "It is a wonderful experience visiting Pakistan. I would love to come back again, as Chef Anjum Javed is very open to teach me how to cook a traditional Pakistani dish."
Pakistani cuisine is all about the fieriness of spices and an overdose of tender meat but why did chef Javed particularly pick the karahi for this event? "Lahori karahi is a dish which every Lahori eats. So, by such fusion cooking we could promote our cuisine and culture internationally," he said.  "It helped me a great deal in learning about their cuisine and recipes, so honestly, I feel honoured to do a fusion cooking session with such a professional cook and it surely is an opportunity of a lifetime for me," said Javed while sharing his experience with Amina.
Such a cultural exchange with Australia is surely one of its kinds for Pakistan as Amina truly represents the best of both worlds. "We are really delighted to bring her to Pakistan as she is a perfect picture of the modern Australia ready to learn about different cultures, traditions and cuisines and interact with them. She is a young, dynamic professional who is enthusiastic about foods and cuisine of different regions," asserted Melissa Kelly, the first secretary of Australian High Commission in Pakistan.
Surely it was a great opportunity for the hotel itself to host this event. "It is an honour for us. They agreed to do a fusion cooking session with us which we arranged to show some significance between the two cultures as food is universal. It surely is a great initiative to promote culture exchange between both the countries," said Aalia Tariq, director public relations at PC Hotel.
Considering Amina's impeccable talent that was clearly evident throughout the time she was on MasterChef, there is no doubt that everybody present at event was all praise for her. "She is a through professional at her job and felt naturally comfortable with Pakistan, which was quite surprising and exciting for us at the same time," told Faizan Haq, media and political officer at the Australian High Commission, to The Express Tribune.
Overall, the session was an exciting treat for visitors as well as those who were involved in putting it together, including actor Ayesha Sana, who hosted the event.
From