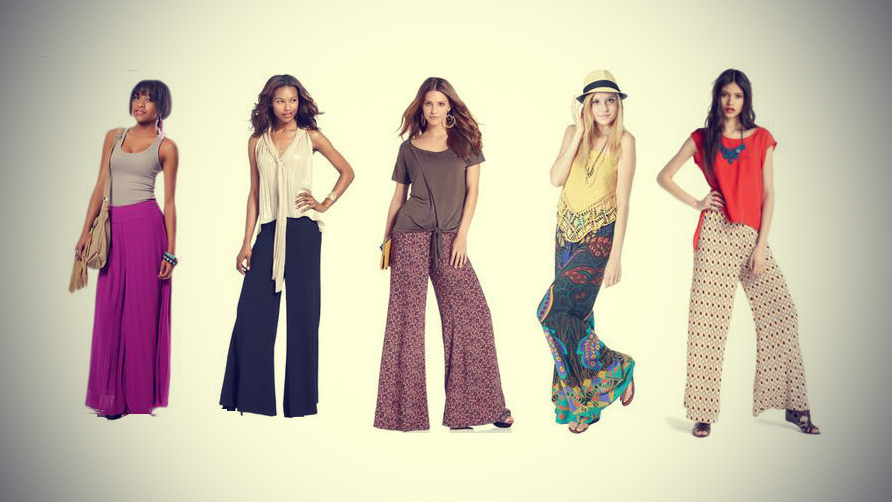 Is this the beginning of the return of the flare? Palazzo pants are a polarizing style: you either love them or you hate them.
A trend with deep vintage roots, palazzo pants first appeared as a glamorous piece for old Hollywood stars in the 1930s, and then again as a hippie fashion staple in the 60s and 70s. Most recently, we've seen the light-weight, flowy style as a part of celebrities', reality stars', and models' summer ensembles.
Palazzo pants are easy to pull-on and go, provide balance and flatter wider thighs and hips, and create the illusion of a maxi skirt while keeping the freedom of pants intact. Because the pants are the epitome of high volume, however, they're definitely statement-making, and are not always the most wearable. If you're considering purchasing a pair of palazzo pants, the key to maximizing wearability is to consider the proportions of your outfit.
Think balance! If you follow the baggy pants + fitted top formula, you can't go wrong. When in doubt, simply style your palazzos like a maxi skirt! The result is a look that's both comfortable and cute. some styling tips for wearing Palazzo pants: Take care of the length.
An ideal pair of Palazzos should skim the floor with heels on. Wear fitted tops or tuck your top in when wearing Palazzos as it gives the illusion of a taller you. Opt for solid colours so that the look doesn't break at too many places. Your tops can be colourful to balance the look. Wear wedges/block heels to add height. Accessorize with contrasting jewellery for jazzing up the outfit.
So dolls, what's the verdict? Hot or not? Would you wear palazzo pants this summer?
From IDT Fb page