Recipe Type

:
Main
Cuisine:
Pakistani
Prep time:
Cook time:
Total time:
Serves:
5
This ultimate desi chicken masala recipe is simple to cook and rich in flavour. The whole red chillies in the masala add a fiery touch to the gravy for those who love a dose of spices.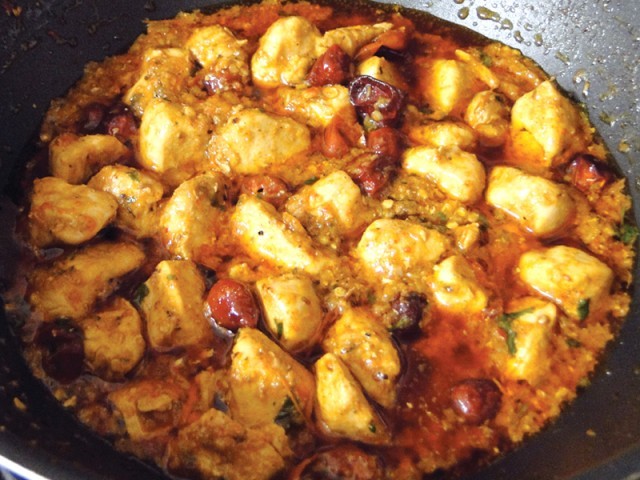 Ingredients
Boneless Chicken (handi cut) ½ kg
Cooking Oil 2 tbsp
Ginger and Garlic paste 1 tbsp
Whole Red Chillies 10
Tomatoes (sliced in rounds) 2
Water ½ cup
Red Chilli Powder 1 tsp
White Cumin 1 tsp
Black Cumin 1 tsp
Ground Coriander 1 tsp
Black Pepper Powder 1 tsp
Dried Fenugreek 1 ½ tsp
Chopped Green Coriander 1 tbsp
Salt to taste
Dry Roast and Grind to Powder:
Whole Cardamom 1
Carom 1 tsp
Green Cardamom 2-4
Cloves 5
Cinnamon Stick 1
Instructions
Heat oil in a pan and saute whole red chillies with ginger and garlic paste.
Add chicken and stir fry for 2-3 minutes.
Mix in all the spices and adjust seasoning according to taste.
Add tomatoes and water and cook till oil separates.
Sprinkle fenugreek leaves and chopped coriander and heat for 2 minutes.
Serve with garlic naan and sliced onions.