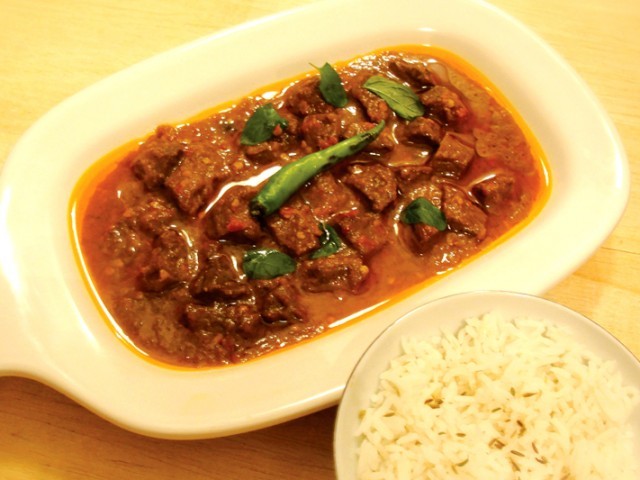 | | | |
| --- | --- | --- |
| Spicy Beef with Tamarind (Khatta Gosht) | #ratingval# from #reviews# reviews | Print |
Recipe Type: Main
Author: Madiha Hamid
Cook time: 75 mins
Total time: 1 hour 15 mins
Serves: 4
Kashmiri cuisine is one of Pakistan's regional cuisines, though you will not find Kashmiri dishes on the menu of most desi restaurants. Known for its simple yet rich flavours, this cuisine is typically non-spicy, the Spicy Beef with Tamarind recipe being an exception. The heat level here is close to that of Thai food.
Ingredients
Boneless Beef 1/2 kg
Whole chillies 12
Tamarind (Imli) 1/2 cup
Medium Onion 1
Ginger paste 1 tsp
Garlic paste 1 tsp
Turmeric powder 1/2 tsp
Red chili powder 1/2 tsp
Coriander powder 1/2 tsp
Cumin seeds 1/2 tsp
Oil 2 tbsp
Coriander leaves & Garam Masala To garnish
Instructions
Marinate whole chilies and tamarind separately in a cup of water each.
Wash beef and set aside.
Method
• In a deep saucepan, heat oil on medium flame.
• Once the oil is warm, add sliced onions. Fry till golden.
• Add ginger-garlic paste and fry with onions till golden brown.
• Now add beef.
• Mix salt, turmeric powder, powdered red chilies, coriander powder and cumin seeds.
• Cook the beef well. Put 2 tbsp water in and mix it with a spatula till dry (a process known as "bhoonna"). Repeat till oil comes up.
• Add one glass of water in beef and let it cook till soft. This will take about 20 minutes.
• Now take the chilies with the water they are soaking in and process them in a blender just long enough to break the whole chilies and mix them well with water.
• Add this chili mixture in the beef and let it cook for another 10 minutes.
• Remove the seeds from the tamarind and add the pulpy mixture in the beef.
• Let it cook till thick gravy is left.
• Garnish with coriander leaves and serve with plain boiled rice.
WordPress Recipe Plugin and Microformatting by EasyRecipe
2.2.8
Source: