If you want beautiful skin, you need to maintain your lipid and hydric levels. If your skin isn't getting enough nutrients, it soon dries out and becomes fragile.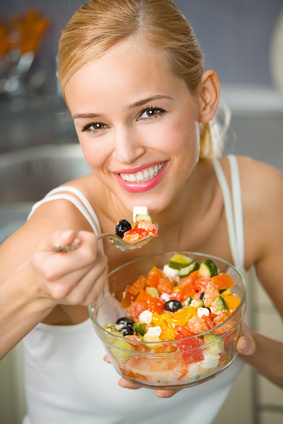 B Vitamins
All the B Vitamins aid metabolic reactions to repair and build collagen and elastin fiber.
Feed your skin: Whole grains and cereals (bread, pasta, rice, wheat and Bulgar wheat), animal protein (meat, fish and eggs) and brewer's yeast (live yeast).
Essential fatty acids
Omega 3 and Omega 6 limit water loss in skin cells.
Feed your skin: Oil (olive oil, walnut oil, soya oil, rapeseed oil and peanut oil), oily fish (anchovies, sardines, herring and tuna), nuts (almonds and hazelnuts), avocado and olives.
Water
Water is essential to healthy skin, for deep-down hydration. It also gets rid of waste, which causes dull skin.
Feed your skin: